Message from May 24, 2022
Many of the older people living in the Marienhaus Group retirement home are either Catholic or Protestant and have actively lived their faith throughout their lives. However, many of the workers are no longer closely associated with the church today. Therefore, the KUK-Online digital education program (church corporate culture) has been launched for seniors' facilities and hospices for seniors.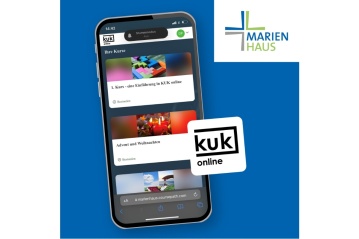 Waldbreitbach. First of all, Christian holidays are usually of great importance to the locals and they know why they are celebrated. In order to be able to continue these traditions in retirement homes, they often made a conscious decision to go to a Christian retirement home. Unfortunately, many of today's workers are no longer closely associated with the church. To enable residents to continue their faith, the Marienhaus Group introduced the KUK-Online digital curriculum. All employees of institutions for seniors and hospices will take part.
After last year's pilot phase at the Marienhaus senior citizen center in St. Anna Morbach and at the outpatient hospice in Hochwald, employees of the St. Josef Kaisersesch and Josef-Ecker-Stift in Neuwied are now starting this online training. Over the next three years, all other seniors and hospices under the patronage will also participate.
The curriculum has been developed over the past few years by a joint project group of the Marienhaus Foundation in Waldbreitbach and the Hildegard Foundation in Trier under the leadership of Sister Marianne Meyer, Deputy Chairman of the Board of Directors of the Marienhaus Foundation and prof. dr. Martin Lörsch, vice president of the Hildegard Foundation. The digital implementation was handled by an external software provider.
Basic knowledge after eight hours of training
"Online training takes about eight hours which count as working time. In principle, all employees should participate, "explains Sister Marianne Meyer, Vice-President of the Board of Directors of the Marienhaus Foundation. Above all, it should also reach future workers who have not experienced any Christian socialization.
Be more aware of religious and spiritual needs
Individual lessons are essentially about imparting basic knowledge of Christian, Church and Franciscan values, holidays, rituals and various forms of worship. "We want our employees to understand our residents and guests in institutions for seniors and hospices, and to better perceive their religious and spiritual needs," explains Sr. Marianne. In addition, the basic Christian and Franciscan attitudes of the Marienhaus Group should be communicated to employees. After each lesson, participants answer a few questions. If you have completed all modules, you will receive a certificate for successful participation.
Employees whose mother tongue is not German and who may find it difficult to understand the lessons sufficiently may ask a colleague for support in the training. In addition, participants can decide individually how deeply they want to explore the topics. There are additional, optional videos and texts for the individual chapters.
"Anyone who likes can get comprehensive information," says Sister Marianne. In addition, individual lessons are constantly updated. "In the future, we will be sharing texts, prayers, and devotional design proposals for specific occasions or funeral services," he says. "In this way, we support employees who want to plan and conduct such religious ceremonies and to sustain the spiritual life in our plants."
(IN THE AFTERNOON)
---
Local: Rengsdorf and surroundings
Become a fan of the local edition of NR-Kurier.de Rengsdorf on Facebook now!