Now you can also build universities in Two Point Country: After Two Point Hospital, rightly praised by colleague Benjamin, UK Two Points Studios follow in their footsteps and let you manage the complex teaching operation in the simulation's successor, Two Point Campus. Specifically, there are even a dozen universities you should build and keep operating with an ever-shrinking budget. You teach those who are more or less willing to learn important disciplines such as chivalry, espionage, and magic, and make sure students feel really comfortable on your campus and establish social relationships. Learning should be fun and the time you spend in college should always be a good memory.
The fun building simulation will be released on August 9 for PC and all popular consoles such as PS4, SP5, Xbox One, Xbox Series X / S and Nintendo Switch. But before that, I was able to prove myself as a building master and dean of some universities and play through four levels in detail. And what can I say: where is the time? Especially in advanced expansion projects there is so much to do and consider as the hours go by. Quickly upgrade a few extra rooms, recruit new staff, level the site for more buildings, or make sure there are enough Burb machines in the corridors to quench your students' thirst. Micromanagement and the colorful hustle and bustle of the website immediately tied me to the screen like in the best days of SimCity.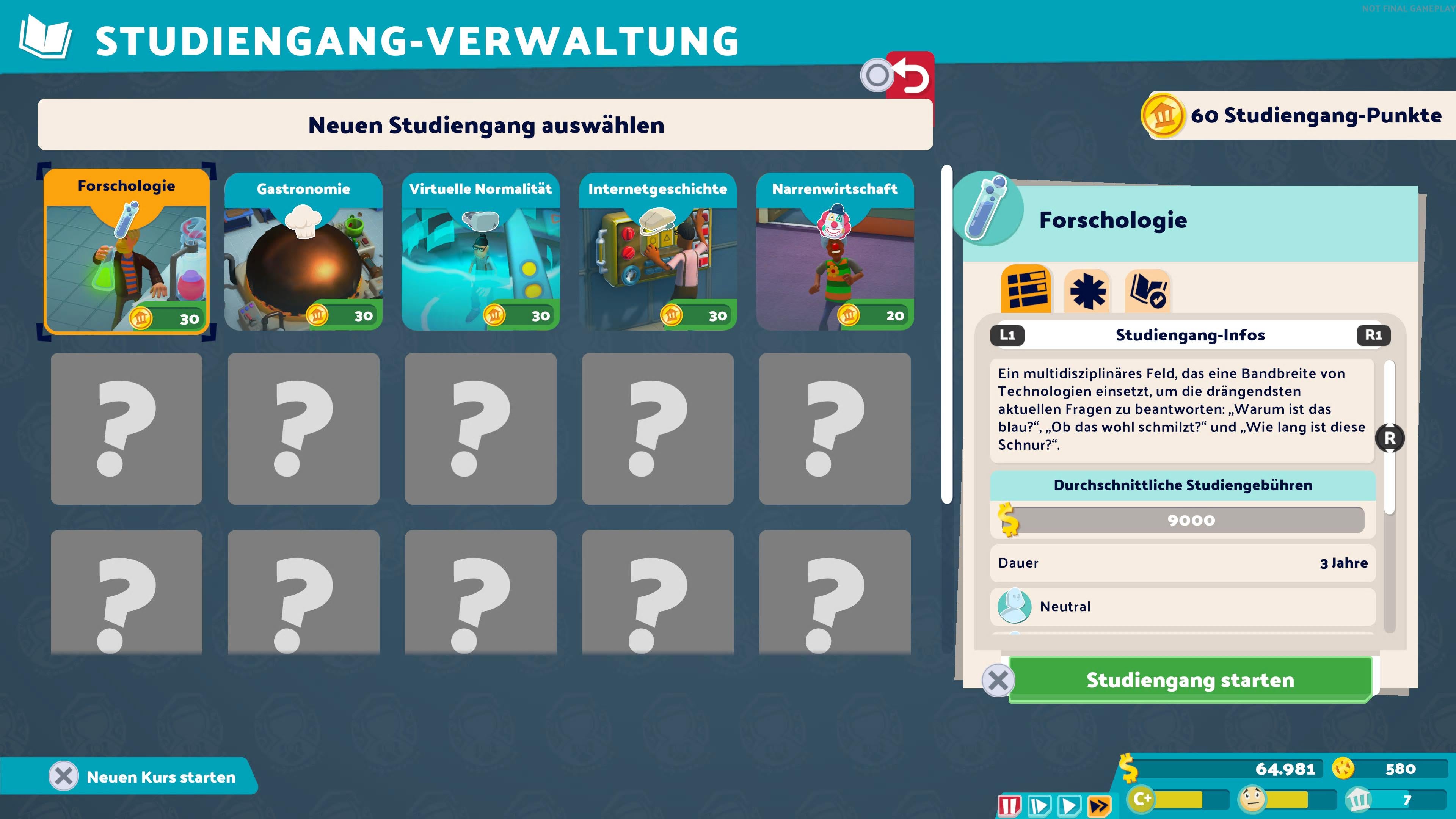 As with Two Point Hospital, in the beginning the developers will take you by the hand and teach you the basics of effective management in tutorial levels. You start your first project in Freshleigh, an idyllic location surrounded by greenery. The main building is already there and you are now installing the science base, placing a research lab for an extremely important special field of research, installing at least one door and hanging a blackboard. Each room has a minimum size that must be respected. So leave a space between rooms, otherwise you will have to carry out costly remodeling work later that will eat up your tight budget.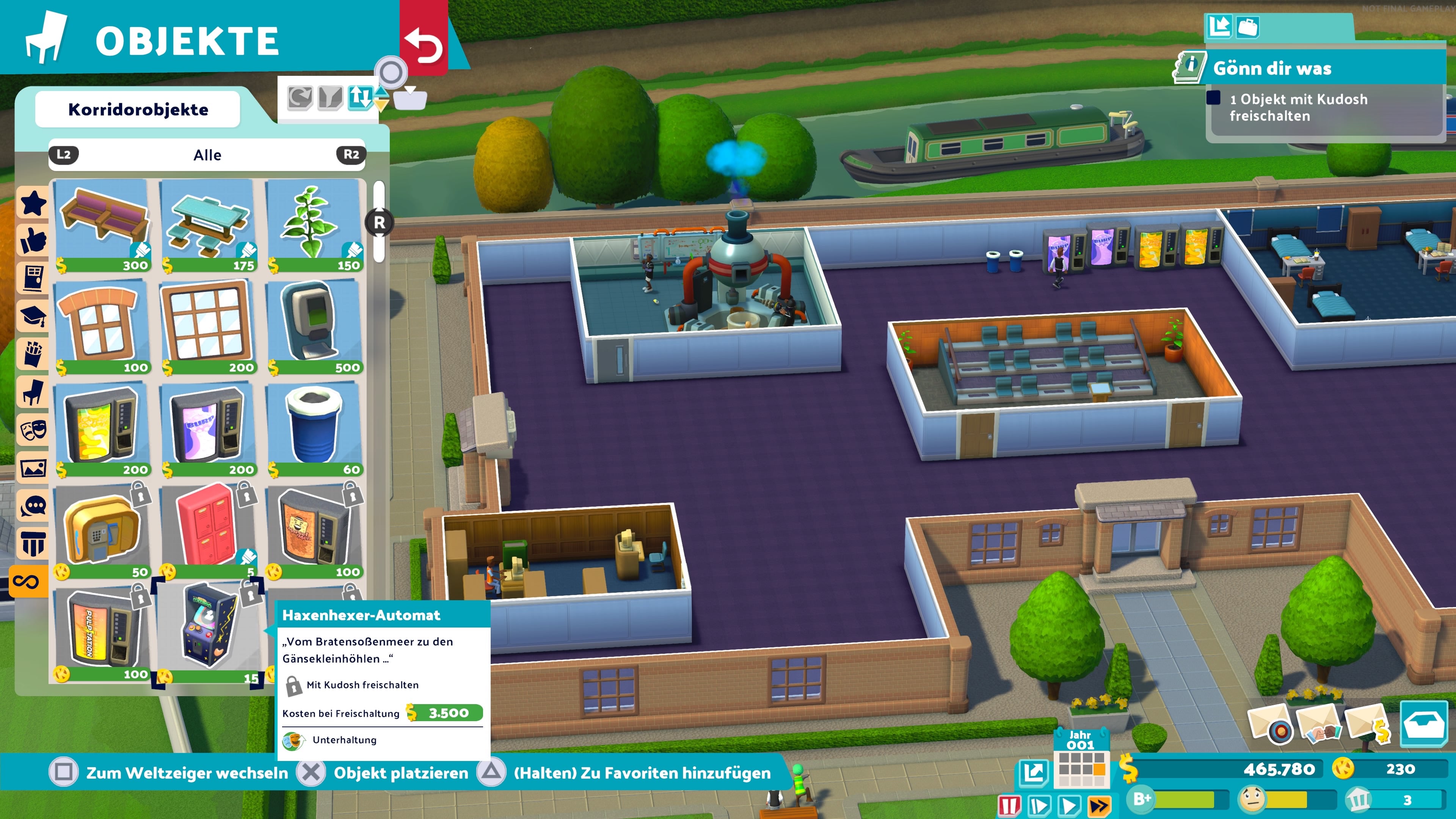 Logical: no teaching staff, no lectures. So now a lecturer is hired who has experience in the research field – and preferably in other fields as well – and the company can get started right away. The first students come to the site, accumulate experience points in lectures, and after a short time are very dissatisfied. Why? Because their basic needs are not met, and universities are generally boring. So there is a lot of investment: dormitories with comfortable beds and cabinets, as well as toilets and showers are the minimum that is needed. To do this, you set up slot machines from the unofficial sponsor of Burb soft drinks, put up payphones, slot machines, garbage cans, and a few potted plants for salvation, and your luck clearly increases. And the happier the student environment is, the better they learn, which means higher fees for tight cash registers as you expand. I watch in horror as my account balance shrinks as I arrange new lecture halls, libraries, laboratories, reading and relaxation rooms, hire new lecturers and assistants, and expand the outdoor area with park benches, flowers and hedges for social gatherings. But the investment is well worth it, after the first semester, tuition increases and additional subjects can be offered, attracting even more students to study. With the extra income, more caregivers can be hired. Not only do they keep the corridors nice and clean, but they also repair flawed technology and drive away intruders who want to cause damage to the rooms. The store is slowly operating as if alone, and the main building is bursting at the seams. It's time to buy a new plot of land nearby and build another building. Thanks to the convenient cloning function, entire rooms and equipment can be taken over with just two clicks, saving the search in numerous submenus.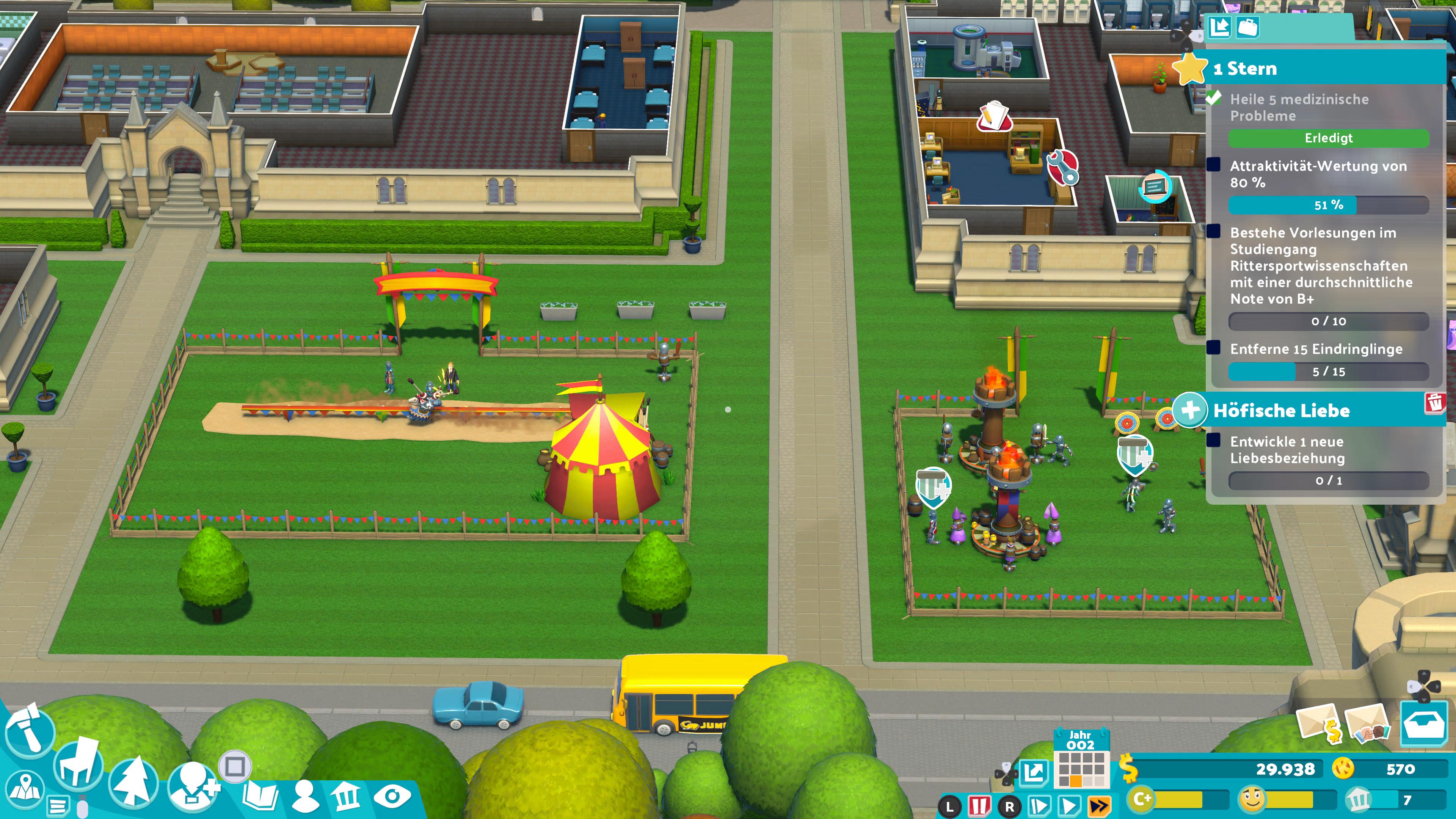 During your year of study, you will receive a series of goals and you should hire a certain number of staff, achieve average staff and student satisfaction, build special rooms and take them to the next level, or unlock new facilities. If you complete as many assignments as possible, your university will receive up to three stars over time. However, one is enough to devote yourself to new tasks and set up another location. The principle of educating, feeding and entertaining students and expanding the territory remains the same, but target requirements are becoming more stringent and funds are dwindling at an alarming rate. But that's exactly what I really like. I completely lose track of time when I have to build a medieval knights school in Noblestead from scratch, where students go on horseback on tournament courts, or start my own Hogwarts in Spiffinmoore, where Muggles are turned into magicians. Aside from the nearly countless options for rooms and items that combine to make a thriving university, I especially like humor, just like at Two Point Hospital.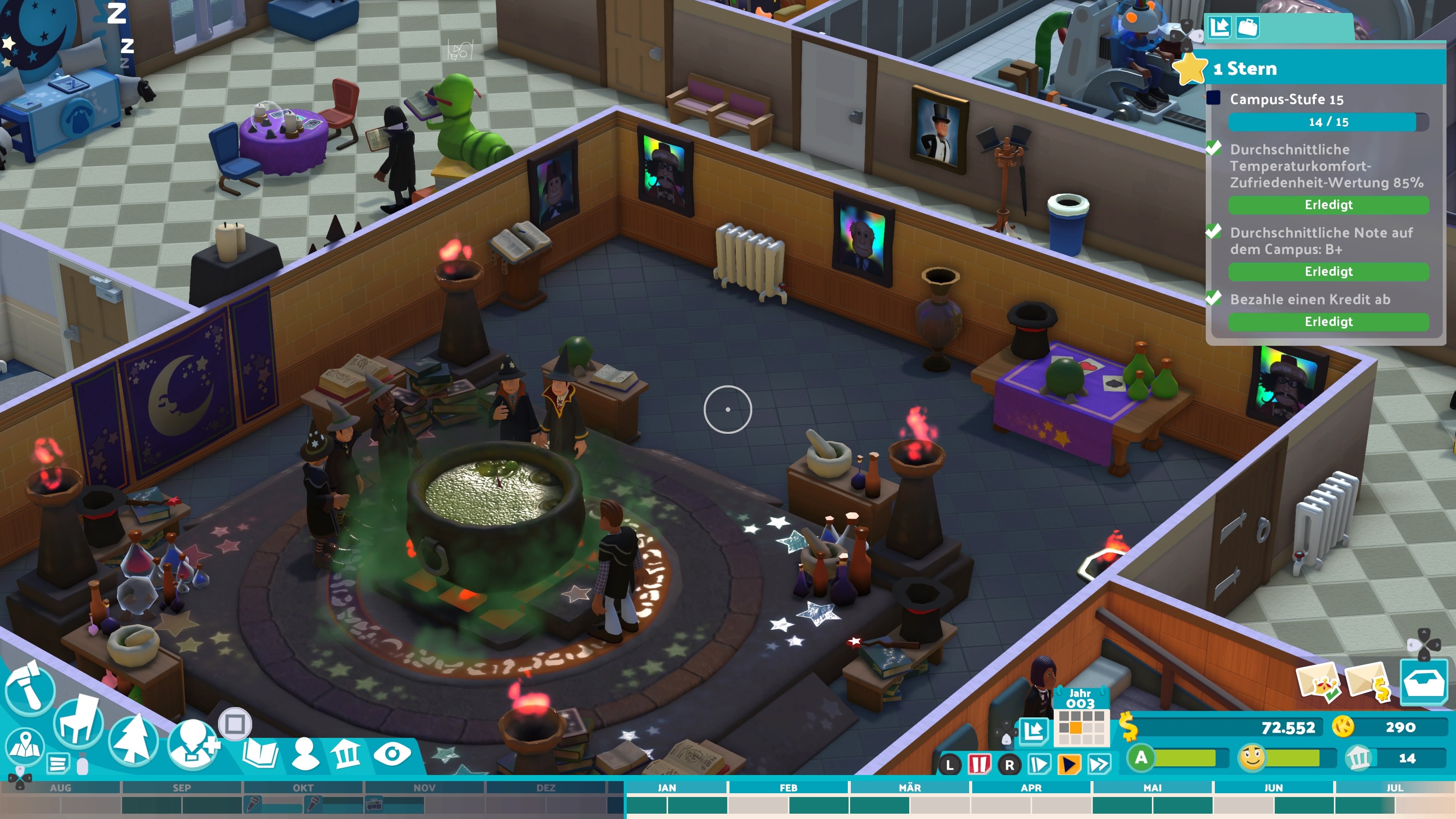 Excellent German dubbing with well-known voices makes me smile, there are allusions to pop culture everywhere to discover and I like to keep zooming and watching cute characters run around in their daily lives. But when a potential knight walks in the shower, takes off his armor, and then shyly ducks his bare buttocks, I can't help but smile. I spent a good five hours at various university levels and by the way did not see everything the developers offer in terms of design options and visual gags. I will probably spend my summer months on this and build my perfect elite university.