Get away from everyday life and immerse yourself in a different world – even for a few hours. During the height of the Corona pandemic, computer games were a fun and safe way for many to spend their time – but the gaming scene now misses opportunities to meet like-minded people offline and exchange ideas. One possibility is the Gamevention Festival, which takes place from 1 to 3 July. takes place in Holstenhallen in Neumünster.
More information:
Competition
WE LOVE ESPORTS GmbH is giving away free tickets for the Gamevention 2022. To enter the competition, simply complete the form at the end of this article.
What at first glance appears to be a niche event for die-hard fans turns out to be a diverse festival with something exciting for everyone. Not only are new PC and console games on display at Gamevention, you can also try out virtual reality experiences, esports tournaments, live concerts by 25 different bands, a cosplay competition, medieval market and information stands where employers can find out. Schleswig-Holstein and learn about career opportunities in digitization. Above all, however, the Gamevention should be one: a colorful, exciting, and varied experience for the whole family. The festival is organized by WE LOVE ESPORTS GmbH, whose managing director Oliver Welling is a true fan of science fiction and games:
"My first science fiction experience was with Starship Enterprise. It shaped my life! I also started playing early and never lost this interest, I still play with passion, albeit different games than before. Strategy games, building games, I really like it. "
Oliver Welling
Managing Director of WE LOVE ESPORTS GmbH
A touching welcome: Gamevention presents the latest gaming trends, but also games with a touch of nostalgia.
Photo: images imago / Andre Lenthe
He is especially looking forward to the appearance of the lightsaber warriors from Star Wars – real professionals who trained actors in Star Wars movies and who will give a taste of their art to Gamevention. Welling is also looking forward to the cosplay competition where over 400 cosplayers from across Europe will showcase their latest costumes.
"In my eyes it is a real artistry. Many cosplayers invest weeks of work to recreate their favorite characters from games, movies and series as faithfully as possible. Even as an outsider, it is fun to see. "
Oliver Welling
Managing Director of WE LOVE ESPORTS GmbH
Those who are more musically inclined will be interested in, among others Concerts of Schandmaul, dArtagnan, Fauna, Vogelfrey, Jan Hegenberg, I-Fire, Execute and the northern finale of Wacken Heavy Metal Battle 2022. Another attraction is the first German eSports championship, which takes place as part of the festival – here players compete in three Legends, Fifa and Rocket League.
The cosplay contest is just one of the many Gamevention attractions – but by far the most photogenic!
Photo: images imago / Andre Lenthe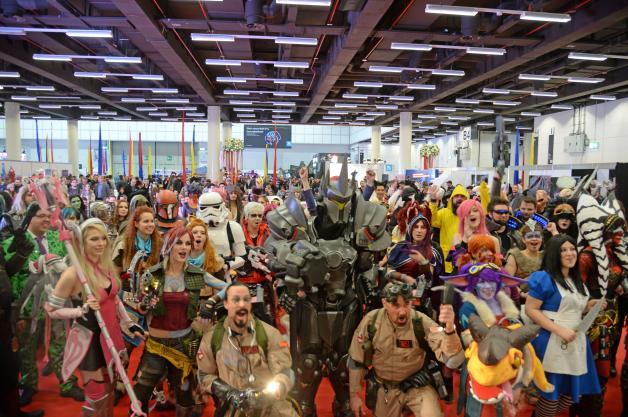 The medieval market square is also impressive, with an area of ​​approximately 8,000 square meters, it is larger than many "single" medieval markets. According to Oliver Welling, the enthusiasm for the medieval worlds also developed significantly through playing:
"By playing with just a few clicks you can immerse yourself in the medieval world and then in the world of science fiction… in Gamevention we try to simulate exactly that feeling. The event has so many different aspects that are only a few minutes' walk away … so Holstenhallen will become something of our own multiverse during the festival! "
Oliver Welling
Managing Director of WE LOVE ESPORTS GmbH
WE LOVE ESPORTS GmbH is currently giving away free tickets for the Gamevention. The first prize is two weekend tickets worth € 99 each, the second prize is two Saturday tickets (each € 49) and the third prize is two tickets that can be exchanged on Friday or Sunday (each worth € 39). To take part in the lottery, it is enough to register by June 20. Fill out the form below and, with a bit of luck, immerse yourself in Wonderland in Holstenhallen in early July!
| ticket category | Price £ |
| --- | --- |
| Ticket for students and apprentices (valid only on Friday) | € 25 |
| Friday ticket | € 39 |
| Saturday ticket | € 49 |
| Sunday ticket | € 39 |
| weekend ticket | € 99 |
| collector's ticket | € 129 |
| VIP ticket | € 199 |
| Tent with a camping ticket * | € 19 |
| Trailer with camping tickets * | € 29 |
* Camping is possible at the designated area of ​​the festival site.
For more information, visit: www.gamevention.de