At first glance, the apartment does not arouse enthusiasm. The floor plan suggests things are tight here. Living room with dining room, bedroom and children's room, as well as kitchen, bathroom and hall – almost 55 square meters in total. At first glance, however, this apartment looks inviting, and not only because it has a balcony. With a little practice, it can be a beautiful home. And on a third historical look, this three-room apartment in a five-story prefabricated P2 building from 1966 was a dream home for tens of thousands of East German residents.
The history of prefabricated construction (actually: large-panel construction), i.e. the erection of buildings that are assembled from industrially prefabricated floor and wall-high slabs, and corresponding floor slabs made of concrete, began in Germany in 1925: The entire district was founded in Frankfurt am Main – the new Frankfurt. A year later he joined Berlin: under the slogan "Light, air and sun for everyone!" by 1930, 138 apartments with balconies or loggias and gardens in front of and behind the houses had been built in Friedrichsfelde. Since 1951 this place has been called the estate of Splanemanna, named after the resistance fighter Herbert Splanemann.
In the 1950s, the young East Germany faced its greatest socio-political challenge: housing. Initially, the motto of the initiative was to build "national, beautiful and generous", then only "better, cheaper and faster". In Berlin-Johannisthal in 1953, a test prefab building was erected; In Hoyerswerda in Saxony in 1957, the foundation stone was laid for an entire city made of large slabs.
The P2 architecture saved space and costs
From the beginning of the 1960s, East Berlin became an arena of industrial construction. In 1961/62, the architectural collective of the Deutsche Bauakademie built the "P2 / 5 experimental building" in the Fennpfuhl district of Lichtenberg. P2 means "parallel 2": Bearing walls are parallel to the facade, there are two staircases in the house. The P2 series was produced in several variants until 1990: five floors as standard, but also six, seven, ten or eleven floors.
The apartments are arranged around an internal staircase; on each floor there are two or two with three rooms (originally around 55 square meters), or one with two and one with four rooms (around 46 and 63 square meters).
Many are unique to P2. The kitchen (built-in, double sink, gas cooker and fridge) and bathroom (toilet, sink and bathtub, connection to the washing machine) are located inside and next to each other. They use a common shaft to supply water, sewage and ventilation, which saves space and costs.
The kitchen, in the original P2, less than five square meters, is connected by a hatch to the living room of 19 square meters. The idea behind this was that family life should no longer go on at the stove and that the man should take part in the housework. The desire to separate the two rooms later led to the installation of concrete walls with a window. In the recently built P2 apartments, the kitchen and living room are completely separate.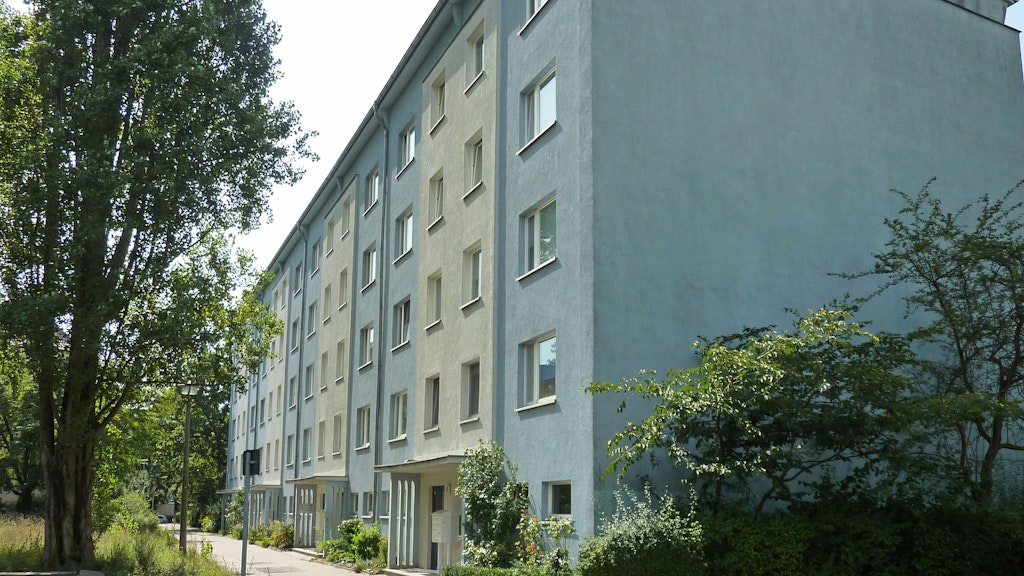 The P2 test building at Lichtenberger Erich-Kuttner-Straße 9, 11, 13 and 15 – now a listed building – also showcased 16 apartments with different equipment. Thanks to the furniture system in a modular form, each tenant could live flexibly. Regardless, the inhabitants of P2 have created their own personal home.
This is illustrated by the photographer Sibylle Bergemann, who died in 2010, with "Series P2 (Berlin-Lichtenberg, living room in a block of flats)". Between 1974 and 1981, the later co-founder of the Berlin photo agency Ostkreuz took black and white photos of several apartments, always depicting the part of the living room that is located between the window front and the hatch to the kitchen.
You can see that the curtains in all the living rooms reach the floor. Besides, things are sometimes colorful and sometimes simple, sometimes rustic and sometimes modern. There are bright wallpapers with abstract floral patterns or white walls; Dining tables with floral tablecloths, wooden chairs in front of them; closed or open cupboards; shelf or cupboard; bird cage on the wall or decorative plates as a wall decoration.
The apartment was actually a government gift.

Bruno Flierl, architect and architecture critic
Life in the GDR was cheap. The rent ranged from 80 pfennigs to 1.25 marks per square meter of living space. In many prefabricated buildings – unlike apartments in older buildings – heating, cold and hot water costs were included in the rental price. "The apartment was actually a gift from the state," said architect and architecture critic Bruno Flierl in an interview with the Junge Welt daily in 2017. Housing construction was not profitable.
Flats in East Germany were allocated or replaced. Families and shift workers had the greatest chance of being "allocated" by the municipal housing administration. The reports were also useful. Many treated the rented apartment as a condominium: they invested money and time in wallpapering walls, tiling the kitchen and bathroom, laying floors and maintaining construction services.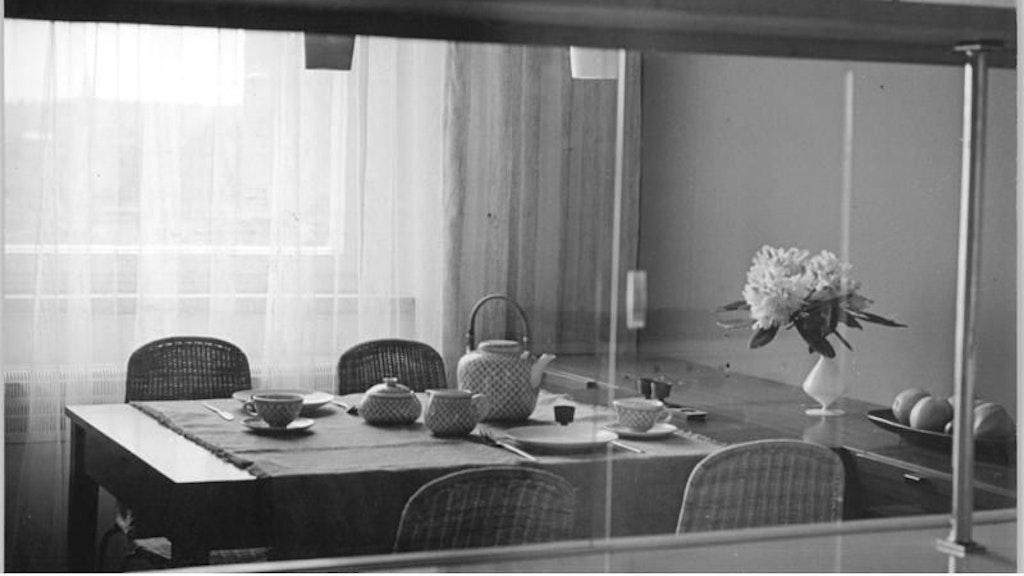 Many tenants have changed the living room area originally intended for a dining room into a seating area. This is shown in the photos of Sibylle Bergemann. One apartment has a three-seater sofa, next to it a floor lamp and two swivel chairs, and between the chairs with a patterned vertical stripes, there is a table. Another object is a leather corner sofa, an old display case and an old pendulum clock on the wall, and a TV set in front of the window – the furniture is on a dark patterned carpet.
The demand for housing in the GDR should be covered by 1990. This was envisaged in the housing construction program decided by the Central Committee of the SED at its 10th meeting in October 1973. Up to three million apartments should be built or modernized. After "A flat for everyone", there was a slogan "To every apartment you own", be it in P2 or other types of prefabricated buildings.
In the late 1970s, the expensive program had to be adapted. The so-called special buildings in housing estates – kindergartens and schools, as well as playgrounds, department stores and local restaurants and swimming pools.
This is how a two-room apartment was created
Construction work in prefabricated buildings has also been simplified, reports journalist Helmut Lück in a guest article for the Berliner Zeitung in 2020: water connections made of rubber, surface-mounted cables made of aluminum, doors without frames. According to Lück, the savings resulted in a two-room apartment: "The layout of the rooms has been changed by simply dividing the larger rooms with a panel in half. The vocabulary had to be adjusted so that it was not as obvious how small the apartments you can give to people are. Because it is difficult to call a one and a half two-room apartment if the rooms were only 18 and 11 square meters. But a two-room apartment – it worked! "
In October 1988, the chairman of the State Council, Erich Honecker, officially handed over a three-million flat in the GDR housing program at Erich-Correns-Straße 22 (today Vincent-van-Gogh-Straße) in Hohenschönhausen. The results of East German construction are undeniable, although by 1990, not three, but almost two million prefabricated homes had been built, and this year 42 percent needed renovation.
Today, in 2022, approximately 100,000 Berliners live in Platte. If it is too narrow there, either in the P2 building or in another type of prefab building, one wall or the other can be removed if necessary. This is a great advantage of buildings without load-bearing partitions.
---
All texts and the B-History archive can be found here.