Press release of June 26, 2012
Johannes Schmidt, the lively Cultural Officer of Westerburg Municipality, once again had the right instincts when he called "D. King's Club Band "at one of the popular folding chair concerts in Wiesensee.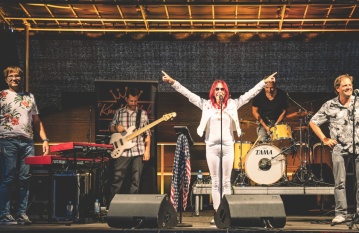 Stahlhofen. When a man is the lead singer of the band, at the forefront of live concerts, and although he does not weaken, gives his show and plays with the crowd, he is called "stage pig". It sounds disrespectful, but in the rock and pop scene it is one of the greatest advantages a pop star can get. But if a woman is standing in front of the team, it would be wrong to describe her as "Rampensau". But in this region there is to be Diane King, because she is the lead singer, who with her strength, voice and charisma is able to attract guests to the concerts of "D. Kings Club Band "and cast a spell on them. But Diane is big enough not to see herself as the greatest in her team because she correctly judges that she can successfully use her part as she can rely completely and 100% on other team members and is supported by them. During the concert, each member of the band has the opportunity to prove their musical quality several times, be it on drums, keyboards, bass or lead guitar.
When Johannes Schmidt welcomed around 200 spectators to the folding chair concert, he first thanked the weather gods as he was apparently in a good mood and illuminated Wiesensee's beautiful, unique location with gentle rays of the sun. As admission to the folding chairs concert was free, Johannes Schmidt asked for a small donation in a donation box. The amount generated by these donations should be allocated entirely to the promotion of culture at VG Westerburg. Then he slowed down the stage to make room for the band, which immediately gave their best and lifted the audience from the first second.
The band showed no shyness in interpreting some unknown songs from pop-soul and funk stars in their own way, while remaining faithful to the original. Together, the team has over 100 years of stage experience and can prove over 2,000 stage performances. The quintet is from the Koblenz / Neuwied region and already has a large fan community behind it.
The enthusiastic audience flashed hit after hit
Here is a small selection of the super hits that "D. King Club Band "in Wiesensee delighted the fans; Hard to bear (Black Ravens), Something is holding me (Grand Funk Railroad), The thrill is gone (BB King), I just want to make love to you and curse your eyes "(Etta James)," The right to be wrong "(Joss Stone) , "Walking Alone" and "Still Got the Blues" (Gary Moore), "Steamy Window" (Tina Turner), "Lie to Me" (Bon Jovi) and "Son of a Preacher" (Dusty Springfield). From the aforementioned selection of hits, it can be seen that the band boldly faces even the most difficult songs.
Enough praise has already been sent to Diane King, it is now inevitable to turn to the rest of the team. Chris Schmitt, considered one of the best guitarists on the regional scene, not only because of his feelings, plays alongside Diane. Thanks to certainly uneasy guitar solos by Gary Moore or Carlos Santana, Chris feels absolutely in his element. Dirk Loose on bass and Torsten Garbe on drums form a well-established and highly experienced rhythm group that rolls the red carpet for the "Queen" and her virtuoso soloist. Daniel Kleiter on keyboards enriches "D. King's Club Band "sounds with a truly powerful vintage feel, reminiscent of Keith Emerson and John Lord.
At the end of the concert, the band became sad when it was explained that their performance at Wiesensee was their last concert with bassist Dirk Loose, who was leaving the band for private reasons. Chris Schmidt at the end of the concert: "On behalf of the band I would like to thank Johannes Schmidt and his wonderful band from VG Westerburg for their excellent organization. It was a special honor for us to perform in this unique place and in front of such a wonderful audience. "
Huge cheers accompanied the band until late at night after over 2 hours of an exhausting concert. The next folding chair concert will be held again on Wednesday 29 June at 20:00 in Wiesensee. Then the "Wiesensee Musikanten" will blow so hard that Wiesensee will make waves.
(Press release VG Westerburg Cultural Office)
---
Local: Westerburg and surroundings
Become a fan of the local edition of WW-Kurier.de Westerburg on Facebook now!