The deadweight effect for Microsoft's partners in the first year of the COVID-19 pandemic has also subsided in Germany. In addition, new Microsoft certifications consistently lead to higher expenses for service providers.
This is a significant cost factor, especially for large vendors, as noted in a new comparative study "ISG Provider Lens – Microsoft Ecosystem Partners Germany 2022" by market research and consulting company Information Services Group (ISG). The supplier comparison analyzes the competitive strength and attractiveness of the portfolio of 60 service providers operating in the German part of the Microsoft ecosystem.
"Recently, business challenges such as supply chain disruptions have prompted many companies to reduce their IT spending – especially in manufacturing and retail," says Heiko Henkes, director and general analyst at Information Services Group (ISG). "As a result, the price pressure on Microsoft's service providers has increased." However, the migration to cloud platforms like Microsoft Azure is ongoing and investments in cybersecurity have increased significantly. "Ransomware, blackmail and espionage are a serious problem these days," continues Henkes.
According to ISG, Microsoft itself is also responsible for further stiffening competition. The success of service partners has led the company to increasingly serve customers directly when sales with customers exceed a certain level or customers from strategically important industries need to be tracked. The number of mergers and acquisitions by service providers has remained low recently. ISG attributes this to, among other things, the fact that the necessary financial resources are held back due to the impending global recession.
Changing the cloud provider is still quite rare
In particular, the market for managed services for the Azure cloud is stably fragmented, which means that providers rarely change, according to an ISG study. Therefore, service providers must focus primarily on convincing customers who are just starting their journey to the public cloud to migrate to the Azure cloud. However, ISG assumes that in the medium term, more customers will choose to switch cloud providers if it is justified by reasons such as costs, service, security, user training or staff availability.
According to ISG, when migrating applications to Microsoft's Azure cloud service, special applications are now increasingly in the foreground after many companies have already moved their core business applications to the cloud. In addition, there is SAP: Due to the partnership between the software provider Walldorf and Microsoft, Azure is one of the recommended platforms for implementing SAP solutions.
ISG also sees a growing demand for the Microsoft Power Platform. It is mainly used by companies that want to enable software development by non-programmers, so-called Many German companies would still hesitate to allow non-IT workers to develop software for corporate governance and security reasons. Here, service providers can help integrate the Power Platform with their customers' corporate IT and develop management strategies that ensure responsible use.
market forecast
ISG predicts that the Microsoft market in Germany will continue to grow dynamically in the coming years. An important reason is that many companies need to consolidate their applications and as a result focus on fewer and usually large cloud providers such as Microsoft.

Supplier Reviews
The "ISG Provider Lens – Microsoft Ecosystem Partners Germany 2022" study assesses the capabilities of a total of 60 vendors in seven market segments (quadrants): "Azure Managed Services – Large Enterprise", "Azure Managed Services – Midmarket", "Microsoft 365 – Large Enterprise" , Microsoft 365 – Midmarket, Dynamics 365, SAP on Azure and Power Platform.
The study ranks Atos as leaders in five quadrants, and Arvato Systems and Bechtle in four quadrants. Capgemini, Deutsche Telekom (TDG), Devoteam M Cloud, SoftwareONE and T-Systems receive this classification in three quadrants, Accenture, All for One Group, Avanade, Communardo, DXC Technology and NTT DATA in two segments. Allgeier, AppSphere, Axians, Computacenter, DataONE, Gluckkanja-gab, Infosys, KUMAVISION, ORBIT, Rackspace Technology, Scheer GmbH, Skaylink and Wipro are "leaders" in one market segment.
In addition, ORBIT, q.beyond, Scheer GmbH and SoftwareONE are referred to as "Rising Star" in one segment. According to the definition of ISG, these are companies with a promising portfolio and great potential for the future.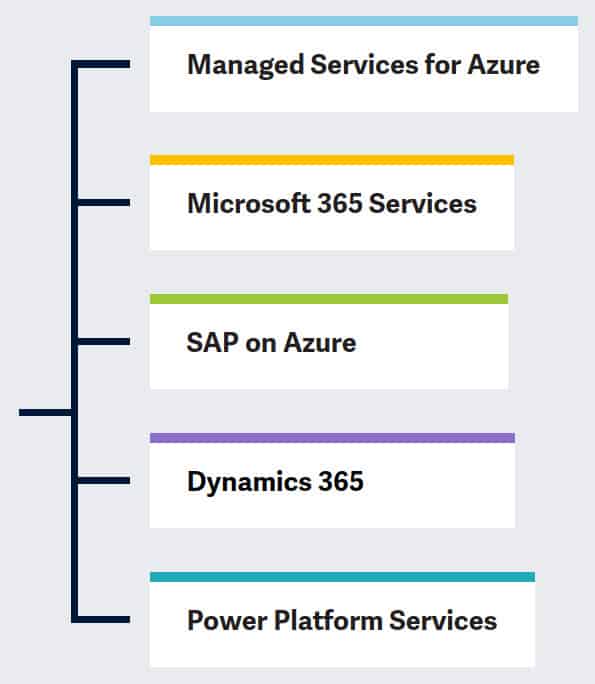 www.isg-one.com