Photo / VCG
The annual shopping festival "618", hosted on June 18 by Chinese e-commerce platforms such as Jingdong and Taobao, has come to an end. However, after an enthusiastic purchase, there are growing concerns about the sheer amount of packaging material for all express deliveries.
The express delivery industry in China has grown rapidly in recent years. At the end of 2021, the average volume of delivery services exceeded 300 million parcels per day. Ten years ago, that number was ten million. At the same time, the amount of generated waste also increases. The large amount of disposable express packaging not only causes sadness for consumers when it comes to disposal, but also damages the environment. However, in this respect, there were some changes to this year's "618": more and more parcel recipients saw reusable shipping packaging.
Jiang Feng lives in Beijing's Fengtai district and often purchases fresh and frozen groceries online. At one point he noticed that the goods were no longer packed in plain white polystyrene boxes, but were sometimes delivered in a simple insulating bag with a small ice bag inside. "In most cases, after making sure someone is home, the courier goes to the door, takes the goods straight from the insulated box and hands it to me. Then he takes the box with him.
Supplier's insulated box is a reusable insulated fresh food box that is now used by more and more e-commerce and logistics companies in China. Compared to standard disposable polystyrene boxes used to deliver fresh and frozen goods, insulated reusable boxes have a longer service life – usually up to a year or more – and can be used hundreds of times. Unlike disposable polystyrene boxes, which often lead to "white dirt", the main insulating material of a reusable box is mostly made of expanded polypropylene (EPP), which not only insulates well, but is also lighter, more durable and more durable. in the natural environment it is easier to degrade.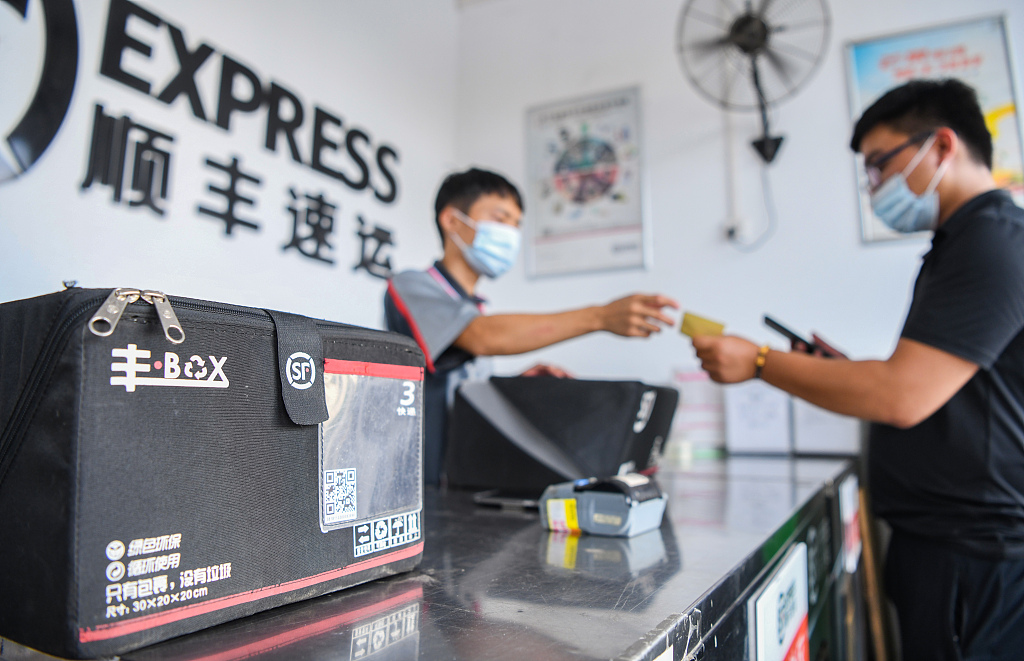 Photo / VCG
In addition to the special conditions for the transport of fresh and frozen goods, many companies have also introduced their own reusable shipping packaging for even more common goods. In December 2017, Jingdong Logistics put the reusable express box "Qingliu Box" into trial operation for the first time, which under normal conditions can be used more than 50 times. In July 2021, logistics company Shunfeng officially launched the pilot reusable packaging "Fengduobao (π-Box)", and by the end of December 2021, there were 720,000 boxes in circulation, recycled 2.8 million times. Trials of reusable packaging have also begun, such as Suning's "Floating Box" and China Post's "Green Recycling Express Box".
Today, most returnable express delivery boxes for general goods are made of polypropylene (PP) honeycomb panels, which makes them lightweight, durable and easy to assemble. According to one of the main producers of such boxes, the service life of a box made of this material can under normal conditions be up to three years, and at the end of its life, polypropylene can achieve a recycling rate of over 90%. . In addition, most of the current reusable express boxes are equipped with Velcro, snaps or zippers, eliminating the need for tape, which also solved the previously criticized problem of excessive tape use.
Li Zhiqiang, assistant professor of packaging technology at the School of Light Industry Science and Engineering at Shaanxi University of Science and Technology, said that compared to the commonly used disposable corrugated boxes, the actual carbon footprint is caused by the recyclable plastic boxes with PP, below. "Paper production itself produces a lot of greenhouse gases and wastewater. In addition, paper products are usually only used once and are extremely wasteful. Biodegradable plastic products that can be used repeatedly have a relatively low carbon footprint. ' Regarding the cost of production, Li believes that while the cost of a single reusable express package is relatively high, it has also gradually decreased as the number of cycles increased. "If you use them several times, the cost of these packaging boxes is much lower than the cost of disposable boxes."