Kevelaer / Viersen / Grevenbroich / Solingen. Seniors from Dülken, Solingen and Wevelinghoven on pilgrimage to Kevelaer
Expectation is in the air as a group of 21 seniors and their companions make their way through the straight Kevelaer shopping street, at the end of which you can already see the pointed brick tower of St. Mary's Basilica. The three centers for senior citizens of the St. Augustinus based in Neuss, including Theresienheim of Viersen-Dülken, Haus Josefa in Solingen, and Haus St. Martinus in Grevenbroich-Wevelinghoven, joined forces and organized a joint pilgrimage to Kevelaer.
Sonja Mondri, head of social services at Josef Haus, is delighted to be able to offer older people something special at this stage of their lives. "Coming out of the center again, experiencing the community – that's great, especially for the residents who have a strong relationship with the church." Lieselotte Lauterjung, an inhabitant of one of the three seniors' centers, regularly went in processions during her school days. The 90-year-old is at Kevelaer for the first time today. "Some may have thought they would never come back here. However, this journey shows that activities and new experiences do not end with the institution for seniors, explains Marion Mertens, Senior Assistance Administrator of St. Augustine and a pastoral companion. Barbara Dischler, a tenant of one of the three seniors' facilities, is no stranger to this pilgrimage city, like many others in the group. The 83-year-old traveled from Wevelinghoven with her neighbor for entire weekends to visit the basilica and the Saturday candlelight procession. But in this context, it is the first time for her.
"I didn't think I would be able to come back here in a wheelchair," says Josef Gorissen. As a native of Nettetal, he never had to travel far and often visited the pilgrimage town. The 86-year-old is having difficulty walking now – even more so, he looks forward to a pleasant afternoon in good company. Josefine Hufer, "still ninety years old" – and coming on the pilgrimage in a wheelchair – sees the trip as a welcome early birthday present. She also cycled here many times with a group of friends to visit the village, the basilica and the surrounding chapels.
"Still more?" Asks Josefine Hufer, her companion, who pushes the wheelchair and does footwork for her as she turns backwards. "Yes, you are light!" Is the happy reply. As soon as the group has reached the paved courtyard of the basilica, the bells begin ringing to call pilgrims to the service. At the beginning of the prayer service, three seniors' facilities are greeted by name as a pilgrimage group.
Eventually they leave the basilica with aromatic incense and the sound of the organ, and carry a somewhat sublime mood outside to the candle chapel. The group gets lost for a while between candles, railings on the construction site and historic fronts of houses, only to find themselves again in the specially reserved Goldener Löwe café.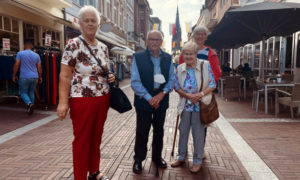 In a cozy cafe with an old-fashioned coffee set, participants enjoy a delicious strawberry cake. "The basilica is beautiful," raves Lieselotte Lauterjung. In the end, everyone agrees: "The cake was delicious!" – and: that it is a whole package of new experiences, meetings and emotional experiences that makes the trip something special. "Our activities and offers are not only about activating old memories," says Marion Mertens. "First of all, we want to give new impetus and provide the people who trust us with as much quality of life as possible at this stage." "These are the moments, that's why I'm there," emphasizes nanny Diana Hengst. "Seeing how much happiness and joy seniors experience – it's amazing." Everyone agrees: "It was a good day!"
Sue