On July 9, a Twitter user the chart titled "Covid-19 Intensive Care Patients in Germany". It shows that the percentage of people in intensive care units with triple or quadruple vaccination is higher than the percentage in the general population. Conclusion: booster vaccinations do not protect against serious diseases, on the contrary, the vaccinated are even disproportionately represented in intensive care units. The tweet was shared over 1,100 times and then distributed Facebook.
Our research shows that although the graphics contain correct data, it gives a distorted overall picture and thus leads to wrong conclusions. Data must be broken down by age group for meaningful comparisons, as vaccination rates are highest in those over the age of 60 – and this group also accounts for the majority of ICU patients. The June calculations by the Robert Koch Institute (RKI), taking into account age groups, show that vaccinations reduce the risk of hospitalization due to Covid-19.
RKI data on Covid 19 ICU patients and population proportions are correct but do not allow any conclusions to be drawn about vaccine protection
According to the graphic posted on Twitter, the percentage of people vaccinated three times and four times in intensive care is higher than their percentage in the population. The numbers shown in the graphic are as follows:
Unvaccinated:

Participation in the population 22.2%. / share in intensive care units: 14.4%

Twice vaccinated:

Share in population: 14.5% / share in intensive care units: 12.5%

Three times vaccinated:

Share in the population 54.5%. / share in intensive care units: 56.4%

Vaccinated four times:

Share in population: 7.2% / share in intensive care units: 13.1%
As indicated, the numbers are taken from weekly report on the situation of Covid-19 The Robert Koch Institute on July 7. These are the "Covid-19 admissions" to intensive care units between June 8 and July 3 (almost four weeks), for which the vaccination status was known. Vaccination status was unknown in 32.9% of cases. The Twitter bar chart lacks the value for those who have been vaccinated once: they accounted for 3.7 percent of Covid 19 intensive care patients. All other dates are correct.
We then checked that the proportions of vaccinated and unvaccinated in relation to the total population are correctly reflected on Twitter. You can do this in vaccination dashboard check RKI. We have them in the Internet Archive version archived July 7, 2022. downloaded. Values ​​agree with the graphics. 77.8 percent were vaccinated at least once, and 76.2 percent were "primarily vaccinated", ie, vaccinated twice. The difference between these values ​​gives the percentage of vaccinated once in the population: 1.6%.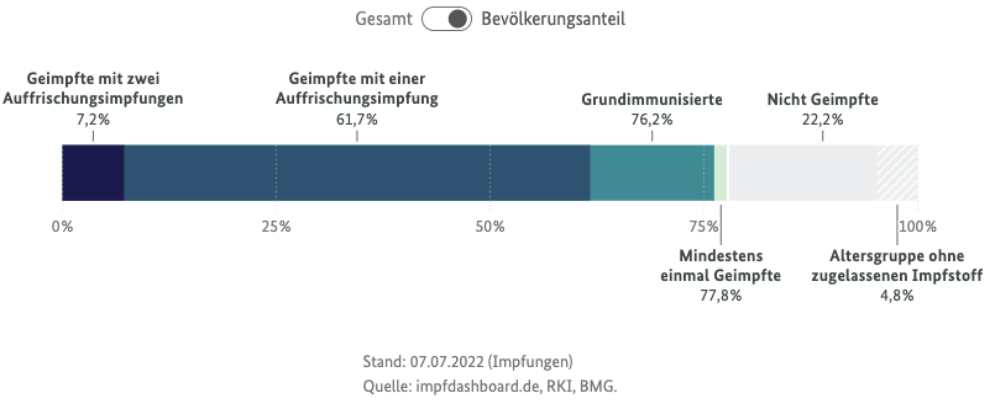 Vaccination rates are much higher among the elderly
However, comparing vaccination rates and vaccination rates in the overall population does not allow conclusions to be drawn about the effectiveness of Covid 19. To do this, data must be broken down into age groups. On the one hand, this is because vaccination rates vary between age groups and, on the other hand, because older people have a higher risk of developing severe disease.
How many people in a given age group are vaccinated, how often is it also in vaccination dashboardBy July 7, 91.2 percent of those aged 60 and over had been vaccinated at least twice – but only 82.1 percent of those aged 18 to 59. The overall vaccination rates are therefore an average that younger people underestimate. However, the vast majority of people who are in intensive care units as cases of Covid-19 are over 60 years old. Thus, the data in the bar chart without age groups gives a distorted picture.
It is important to distinguish between age groups
The Twitter user himself points out that the data in his chart are not divided into age groups. However, he writes that the Robert Koch Institute (RKI) does not provide this data; they dived into it RKI Vaccine Monitoring Report not up. This is not entirely true – such data is available in the monthly monitoring report.
FROM the latest report is from July 7th. However, the data it contains is several weeks older than the RKI Weekly Report. They represent calendar weeks 20 to 23 (May 16 to June 12) instead of June 8 to July 3.
The data in the vaccination report is quite significant
Older data would only be meaningless if the vaccination status of intensive care patients had changed significantly in the meantime. So let's take a look RKI Weekly Report for June 9 thrown and compared with the information in the July 7th weekly report. The proportions of individual groups in intensive care units for the period from May 9 to June 5 are given as follows:
Unvaccinated:

15.5 percent (July 7: 14.4 percent)

After vaccination / recovery without vaccination:

7.8 percent (Jul 7: 3.7 percent post vaccination, no information on those who recovered)

Twice vaccinated:

24.9 percent (July 7: 12.5 percent)

Booster vaccination:

51.8 percent (Jul 7: 56.4 percent of triple vaccinations and 13.1 percent of four vaccinations, for a total of 69.5 percent)
You can see that the percentage of people vaccinated twice was higher a few weeks earlier, and those who had received a booster vaccination were lower. In the meantime, however, the number of people who received at least one booster vaccination in the population has also increased: it was caused June 8 according to the vaccination table at 59.8 percent – am July 7 it was 61.7 percent. Among people over 60, this value is again much higher, and it also increased sharply: on June 8, 80.2 percent. increased, and on July 7, 85.6 percent. So there is no reason to consider the older data from the Vaccine Monitoring Report as irrelevant.
Data from the vaccination monitoring report show that unvaccinated people are more likely to be in intensive care
The proportion of Covid-19 cases hospitalized in intensive care units or dead is RKI Vaccine Monitoring Report shown in bar graphs by vaccination status and age group (from page 13). Next to them is their respective share in the entire population. You can see: The percentage of unvaccinated (red) among inpatients, in intensive care or deaths is always higher than the percentage of the total population. The percentage of vaccinated people is lower.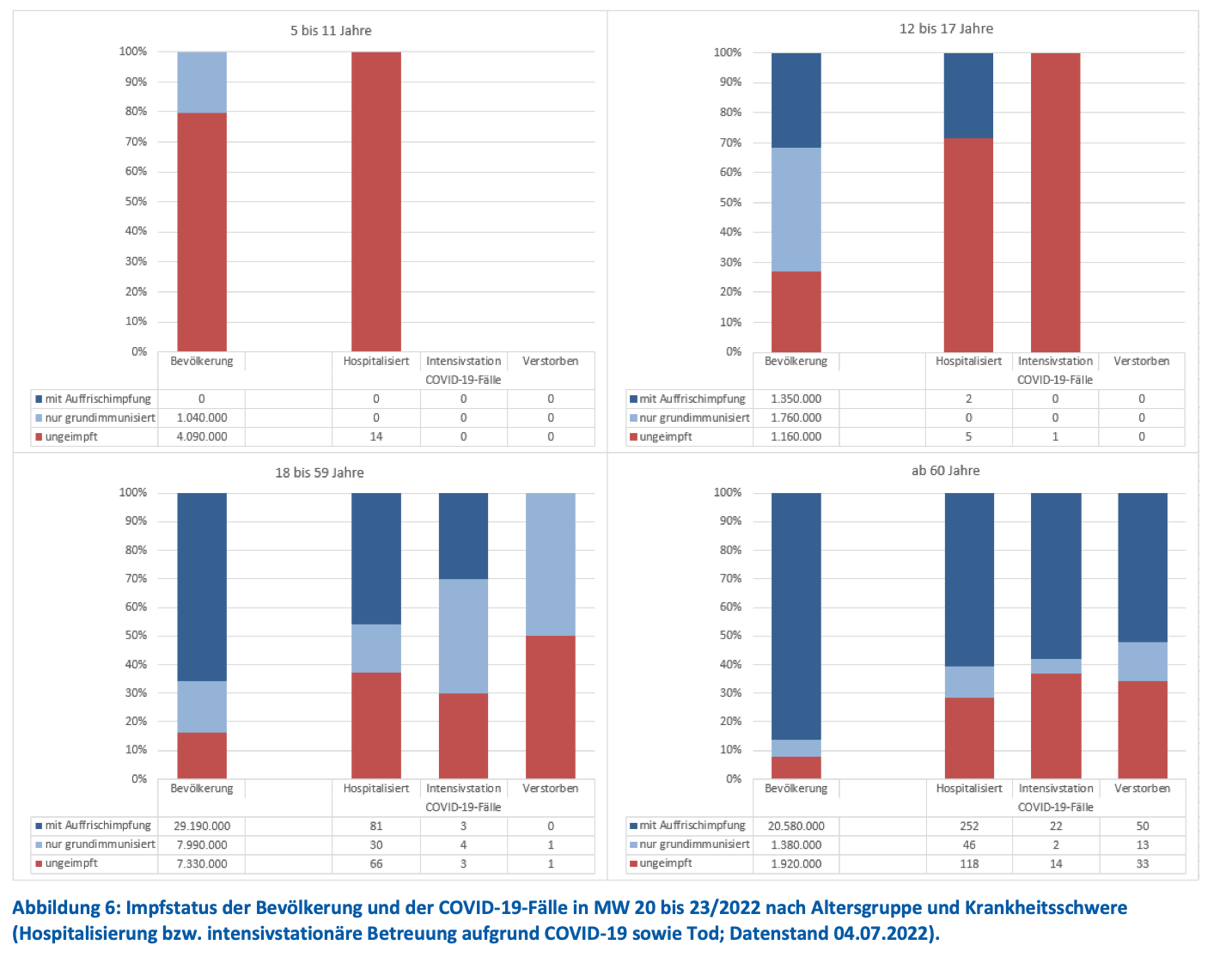 RKI writes about the graphic: "In the period presented (MW 20-23 / 2022), the vaccination status was known from the information provided in 78% of cases hospitalized due to Covid-19. On the one hand, it is striking that in the 5-11 and 12-17 age groups only a few severe cases have been reported and that most severe cases occurred in unvaccinated children and adolescents, a small proportion of the unvaccinated population for a proportionally high proportion of severe Covid cases. 19 ".
Hospitalization data by vaccination status and age group for the same period (calendar week 20 to 23) can be downloaded here as an Excel file. Here, the RKI calculated the following hospitalization rates (per 100,000 inhabitants):
12 to 17 years: unvaccinated 0.1 / twice vaccinated 0.0 / at least three doses of 0.0 vaccine

18-59 years: unvaccinated 0.2 / twice vaccinated 0.1 / at least three doses of 0.1 vaccine

Over 60 years of age: unvaccinated 1.5 / twice vaccinated 0.8 / at least three doses of vaccine 0.3
In this calculation, the RKI takes into account cases where it has been found that people have been hospitalized for Covid-19. This means that the incidence of hospitalization is highest among unvaccinated people over 60 years of age. In all other age groups, it is also the highest among the unvaccinated, with very low overall values. Relative to their share in the population, unvaccinated people are hospitalized with Covid-19 more often than vaccinated people.
Editing: Matthias Bau, Sophie Timmermann
Check out the most important public sources for this fact:
Weekly Covid-19 Situation Report from RKI on July 7, 2022: Link

Weekly Covid-19 Situation Report from RKI on June 9, 2022: Link

RKI monthly report "Monitoring the COVID-19 vaccination process in Germany" of July 7, 2022: Link (archive)

Vaccination dashboard (archived versions July 7 and June 8): link 1, link 2