Press release of August 6, 2022
Horbach's male choir soon invited them to a friendship concert in the chapel of St. Wawrzyniec in Horbach and presented to young musicians the male band "More than 4", about which you will learn later. Even if the guest had to do without the baritone, as a quartet he was no less convincing.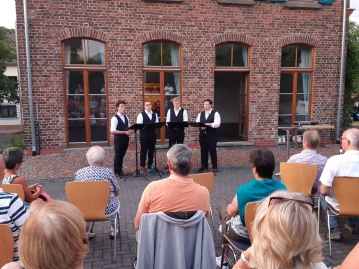 Horbach. The concert leader opened up with his "little band", a formation that meets more irregularly to deepen the literature or practice songs for which there is little time for regular rehearsals. Additional rehearsals and the "small round" will be conducted by the vice-president of the choir, Volker Diel.
Horbach singers opened the concert with three songs at night: "Starry Night", "Moonlight Night" and "Beautiful Night". Jürgen Faßbender, director of the Horbach choir, joined the choir and supported the first bass.
The program of the guest band "More than 4" was opened by "Da pacem domine", which is built in the Gregorian style from monophony to four-voice chords. The young singers from Halle (Saale) prepared a very varied package. In addition to sacred music, folk songs were also performed, such as "Am Brunnen vor dem Tore" or spiritual ones, such as "Good news, chariots are coming" and songs for a smile "Beetle and flower". The a cappella ensemble was founded in 2010 by singers from Stadtsingechor zu Halle.
Since 2016, the ensemble has regularly participated in master classes such as Young Voices with Werner Schüssler and John Potter, and Vocal Summer Classes of the Rhineland-Palatinate State Academy of Music with Amarcord and Singer Pur. "More than 4" was characterized by exceptional sound, extraordinary musical sensitivity, charm and entertainment, winning enthusiastic applause from the audience in the Horbach Chapel. At the end of the concert block, "Still ruht der See" and "Abendruhe" were performed together with Horbach singers. This unique sound experience was honored by the audience with continuous applause and generous donations to young singers.
After the concert, people went to a nearby community center and could listen to a small but nice outdoor concert with a glass of wine and homemade Spundekäs. Enthusiastic listeners also demanded a few encores. The following performances were accompanied by Horbach singers and singers from the audience. "All a successful event and the format we should use," summed up the vice-president of the choir, Volker Diel.
The enthusiastic couple thanked the initiators around Uwe Girmann and added: "We only expected a small concert and we were completely surprised." The concert was sponsored by the association "aktiven Klangkörper" Horbach. (IN THE AFTERNOON)
---
More on this topic: Events overview Church and Religion Culture and Leisure

Locally: Montabaur and surroundings
Become a fan of the local edition of WW-Kurier.de Montabaur on Facebook now!