Berlin has approximately 3.7 million inhabitants, they are as diverse as the city itself, so what makes Berlin special, why do people live here, and do they even like to do it? In our "Berlin Questionnaire" section, we ask famous residents of the capital about their favorite places and personal prohibitions. They reveal their culinary tips, favorite shopping and neighborhood secrets. But also what annoys her about Berlin and what you definitely shouldn't do here.
This time, the East Berlin-born actress Anna Thalbach answered our questions. Born into a well-known theater family, she feels at home on city stages. In 1993, she played her first theater role in "Olly's Prison" at the Berliner Ensemble. Currently, she can be seen in the crime play "Mord im Orientexpress" – the play is staged from August 13 to September 11 in the comedy on Kurfürstendamm, which moved to the Schiller Theater. There are three generations of Thalbach: Katharina Thalbach (68) directs and plays the master detective Hercule Poirot, Anna Thalbach (49) plays the role of Mary Debenham, and Nellie Thalbach (27) stars as Countess Andrenyi .
1. Mrs. Thalbach, how long are you in town?
My great-grandmother lived in Berlin, I have been living here since June 1, 1973. At times I think that my family has experienced the Kaiser, fascists, communists and capitalists here, and I am trying to imagine what could happen … all over again? Or maybe something completely different?
2. What is your favorite place in Berlin?
My favorite place is my home and Nellie, I'm the happiest there.
3. Where are you going when you want to relax?
I also experience ultimate relaxation at home. But I really like going to a massage, I also like official Thai massage from time to time, because I can really relax there.
4. What parts of the city do you avoid?
I think "avoid" is a very negative expression. Every big city has its sides and opposites. I don't like going to Alexanderplatz, I don't like the atmosphere at all and I don't like the shops and restaurants. Before the pandemic, when it was so crowded with tourists, I 'avoided' going to breakfast on weekends because everything in the cafes in my area was overcrowded.
5. Your ultimate gastronomic tip for insiders?
I rarely go to restaurants so can't really think up but love the market on Arkonaplatz, the selection is great and the trout is always there and can't protect itself from customers.
6. Your top shopping tip?
The art bookstore on Savignyplatz is great, I met Karl Lagerfeld there once and he bought so many books that they were packed in moving boxes. And of course Grosser Unfug, the comic book shop. I love comics, they combine my great loves: literature, image and film.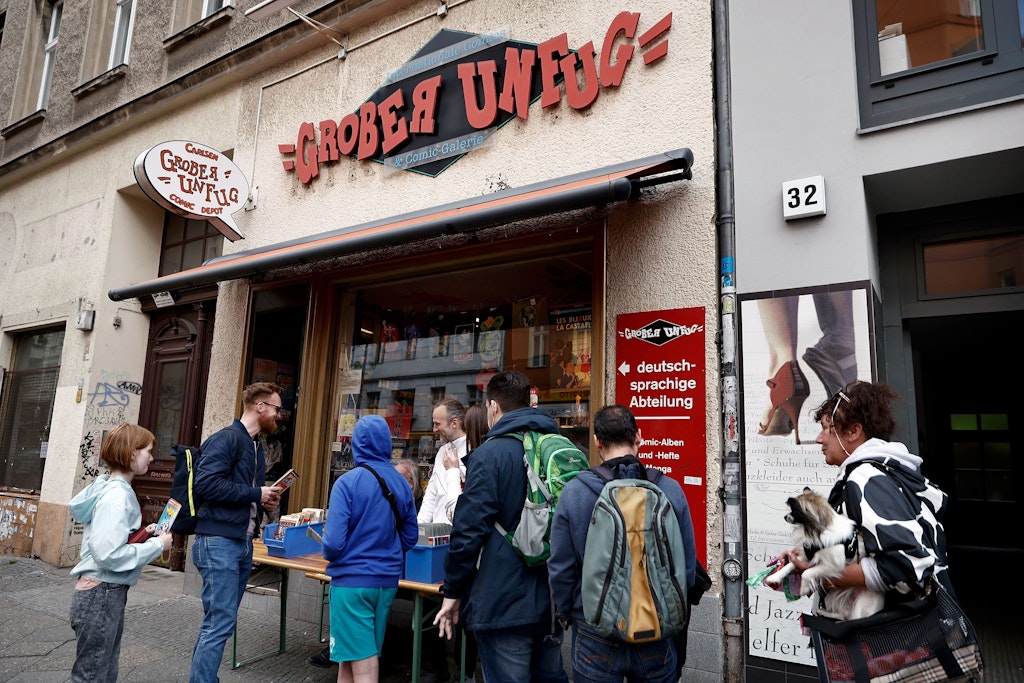 7. The best part of Berlin is …
There is no such thing as the best neighborhood, and they are also constantly changing – and most Berliners only know about these three neighborhoods. I liked Schöneberg and Kreuzberg in the 1980s and 1990s, and in the 1990s Mitte and Prenzlauer Berg were also colorful and lively. Now there are four children's stores in a row on Kastanienallee and the subculture is gone.
8. What annoys me the most about the city:
SUV and unfortunately many cyclists. As a pedestrian, I feel harassed by both sides. I also don't understand why cars get bigger and bigger when there is less and less space. Pooling everyone's interests doesn't work that well.
9. What needs to be changed urgently to keep Berlin viable?
Of course the rents. When I was young it was always possible to move and try different neighborhoods, there were places where the subculture could thrive and be protected. Subculture is a breeding ground for culture and spiritual development, if mother earth is not good, nothing will grow up in the end. Berlin has always been loud and direct, sometimes boastful, but now bragging has become socially acceptable here as well. Personally, I don't like it.
10. Your tip for the undecided: move to Berlin or stay there?
Everyone has to decide for himself what he needs to live. I have lived here for 49 years – and as in marriage there are hours of light and darkness. I believe a big city can carry you when you are well, but it won't catch you when you fall.
11. Colder than Berlin is only …
This brings us back to the ranking. I don't really like it when you do something like that, someone is always upset. Cooler than Berlin is a place where peace, tolerance, diversity, wisdom, warmth, wit and hospitality live. If anyone has an address, give it to me!