Plus, the mostly empty shop window in Verspoel and the otherwise rather gloomy arcade next door have been filled with life and very different sounds over the past three days. Sometimes they were classic radio broadcasts with conversations on very different topics, sometimes beats and breaks of Atwashere and other DJs, sometimes sound art by Anji Kreysing or songs of the tower guard Martje Thalmann with the singing city guide Clemens August Homann on the Münsterland Platt. This exhibition radio was organized by the medienforum münster together with Radio Q and Beatnetz Münster.
When Karsten Hannig from the board of the medienforum münster e. V. thanked everyone involved on Sunday after 7 p.m., it could be said that the stone fell from his heart. Despite some technical challenges, the result was better than the initiators themselves expected. "We just started and wanted to try it out," confessed Dennis Welpelo, who came up with the whole thing together with Albert Ruppelt from Beatnetz Münster, and now he organized it with Paul Sattleer from Radio Q. Welpelo felt not only relieved, but even enthusiastic: "We had the courage to leave the gap. But it worked 100% because so many people agreed to it. "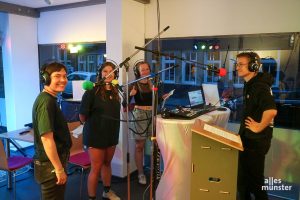 Campus Radio Q, for example, usually broadcasts its daily evening magazine "Abspül" from the basement studio on Lake Aasee, but from the past three days passersby have been able to view it through a shop window in the city center. And even those who would otherwise have to transmit their programs to the social radio Antenne Münster at least three days before the broadcast, tried their hand at Verspoel with live operation, which they were not used to, and kept an eye on their fingers. The exhibition radio could be listened to from Friday to Sunday at www.webradio-muenster.de – some of them will certainly be repeated there in the near future. This is how the current editions of "Antenna Antifa", "Der LeseWurm", "Radio Kaktus", "B-Side Funk" and "Renés Rock – & – Blues-Shop" were created live in a glass studio.
On this occasion, many local radio operators introduced other associations and initiatives in the city, from the foster family network or the multi-generation M + M mother house and center to NetzPlugin, the Lebenshilfe Münster office for inclusive media education. Or from Fahrradstadt Münster, which informed the Parking Day, to UPLA eV, which not only advertised its 13th Latin America Weeks in Münster, but also brought representatives of the charity associations, Mr. y arte i musicamento.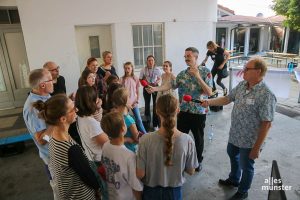 On Saturday, many children and their parents came to the 'showroom' on a family tour of Kulturrucksack NRW. They not only allowed themselves to show how radio is made, but also presented a small piece of sound art that was also broadcast live. Led by René Haustein, they had practiced it shortly before on their way from an art exhibition to Verspoel. Others came because they were guests at the concert, attended one of the workshops offered, or simply wanted to see the Bürgerfunk studios. "We brought several hundred people here because there was a new group every hour," emphasized Dennis Welpelo. "There were always new people who took part in guided tours or workshops. And they were inspired to "think with their ears."
"A very, very intense experience that was great fun," Paul Sattler summed up the three days from his point of view. "Lots of people got smuggled through that window and they did very different things. They met here in Verspoel over the radio in the shop window and they complemented each other somehow precisely because they were so different. " And Dennis Welpelo added: "I don't think it will be the last time we do something like this: show us what we are doing, which is making the radio."
similar posts