Message from 09/10/2022

Author: Wolfgang Rabsch
If the abbey church in the monastery in Mariensztat turns into a concert hall, the audience leaps up after the concert and prepares a standing ovation for a few minutes, something extraordinary must have happened. The venerable nave does not experience such joy every day. What was the reason for this joy?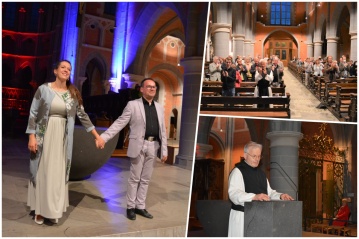 house of dispute. Brother Gregor, artistic director of the music group of the Marienstatt Abbey, invited to the second triduum. In German one could say "mastermind", and at the same time the organizer of popular concerts in the monastery church. Originally, the concert was to be performed by soprano Julia Kleiter and organist of the cathedral in Speyer Markus Eichenlaub. But shortly before the concert, Brother Gregor received the sad news that the soprano was ill. The originally planned concert concept collapsed and Brother Gregor had to find a suitable replacement in a very short time.
Of course, the brother also lives in the digital world and has good connections. It was almost a miracle, however, when he managed to reconcile not only the cathedral organist Rolf Müller, but also the excellent soprano singer Elisabeth Menke. In this context, "substitute" is almost an artistic insult, because what both artists proposed was at the highest level.
The concert in a class of its own – the program in a class of its own


Georg Friedrich Handel (1685-1759) Haec est Regina Virginum, How beautiful their feet are, If God is for us from: "Messiah"

Johann Sebastian Bach (1685-1750) Prelude in E flat major BWV 552 / I, Quia respexit from: "Magnificat"

Felix Mendelssohn Bartholdy (1809-1847) But the Lord Leads the Lost, Op. 112, No. 1, My Soul Desires God, Op. 42, Allegro con brio from: 4th Organ Sonata in B flat major, Op. 65/4), Jerusalem, Jerusalem, you who kill the prophets from: Oratory "Paulus"

Elisabeth Menke / Rolf Müller Any improvisation "I will create a song from silence and September light"

Felix Mendelssohn Bartholdy Allegro maestoso e Vivace from: 4th Organ Sonata in B flat major, Op. 65/4

Gabriel Fauré (1845-1924) Pie Jesu, Domine with Requiem Op. 48

Wolfgang Amadeus Mozart (1756-1791) Hallelujah with: "Exsultate, jubilate" KV 165
Connoisseurs and lovers of church music will surely be interested in this selected program. The expectations were high enough and it can rightly be said that they have been fully met. It's amazing how both artists met and played a concert that was not marked by any weaknesses. On the contrary, the organ and the soprano merged into a whole that left no room for any misunderstandings.
Elizabeth Menke it combines all the advantages of a soprano. With her wonderful voice, which also reached tones beyond C, coupled with her expressive facial expressions and gestures, between suffering and passion, listening to her was an easy pleasure for listeners.
Rolf Mueller it was in no way inferior to the soprano. He is an internationally successful and acclaimed organist who has gained an exceptional reputation for performing at numerous festivals, major church festivals, radio concerts, CD recordings, and as an oratory conductor in the church music genre. The new Rieger organ in the Marienstatt monastery found its master who literally pulled out all the stops.
Enthusiastic viewers and listeners experienced the concert at a high level, but there was one more attraction: it concerned the improvisation of the soprano and the organ "I will make a song out of silence and September light". In this piece, both artists proved their good cooperation, alternately throwing themselves a ball of domination and restraint at the same time, allowing the organ and voice to merge into one.
The applause of the enthusiastic audience was so demanding that it was perceived as a request for an encore, to which the happy artists were eagerly fulfilled. At the end, the audience of the concert had the pleasure of listening to George Frideric Handel's "Angel, always bright and fair". Many concert-goers stood together in the church, even after the concert, to exchange their feelings and impressions of what they had experienced.
Concert note:
Organ Triduum – III. Concert Sunday, September 11, from 15:15 to 16:15, place: abbey church.
Thomas Ospital, titular organist of St. Eustache (Paris) plays pieces by Buxtehude, Franck, Vierne, Durufel, Escaich and improvisations. (Wolfgang Rabsch)
---
Local: Hachenburg and surroundings
Become a fan of the local edition of WW-Kurier.de Hachenburg on Facebook!